EXOR International is a manufacturer of HMI, control, and industrial IoT solutions. EXOR provides easy-to-use tools, which express a highly advanced technology fully responsive to the concepts of Industry 4.0.

EXOR's product line — including their flagship IIoT Controller — addresses the 5 major challenges to IoT implementation:

Choosing a technology that will be obsolete in a few years time
Achieving end-to-end connectivity
The level of understanding of the workforce
Cybersecurity
The need to store vast quantities of data
EX700 IIOT CONTROLLER
Exor has updated its flagship product the eX700 Series and gone much further, creating the ultimate all-in-one solution ready for scalable applications across many industries.
Super high performance, high resolution glass cap touch, fully connectable upstream and downstream, powerful integrated PLC with all the major protocols, integrated VPN with Service Cloud — all with a 5-year warranty as standard. EXOR's eX700 series IIoT Controller is truly an all-in-one solution, covering many functions such as:
a powerful

 

BROWSER

 

with an industry-standard web engine powering state-of-the-art Chromium browser
a

 

GATEWAY

 

with up to 3 Ethernet networks, OPC UA pub/sub server and client, with TSN connectivity and multiple protocols
a powerful

 

HMI

 

using JMobile inside, with multi-touch operation in a brilliant high-resolution display
a

 

PLC

 

with the CODESYS V3, which can function as Master through major protocols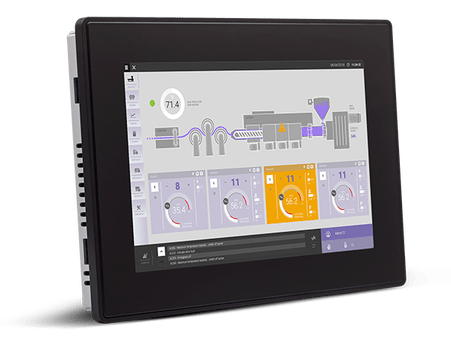 EX700 IIoT Controller Features Include:
Super high performance
High resolution glass cap touch
Fully connectable upstream and downstream
Powerful integrated PLC with all major protocols
Integrated VPN with Service Cloud
Standard 5-year warranty
THE X PLATFORM
The X Platform by EXOR is a complete, enterprise-ready, Industry 4.0 Platform that enables you to rapidly develop new applications of smart connected devices for your clients. Being such a complete platform, EXOR helps you enable the application you need to implement your Industry 4.0 plan, no matter at which stage you are currently.
Operating in the industry sector since 1971, this vast experience coupled with continued multi-year, world class innovation allows EXOR to control all stages of development, design and manufacturing over Software, Hardware and Cloud.
For more information, or to request a quote, contact Inside Sales at
412.838.0230
or fill out the form below.