The new Asycube 530 3-axis robotic parts flexible feeder from Asyril is their largest "small parts" feeder to-date, with the ability to handle part sizes up to 150 mm (6 inches).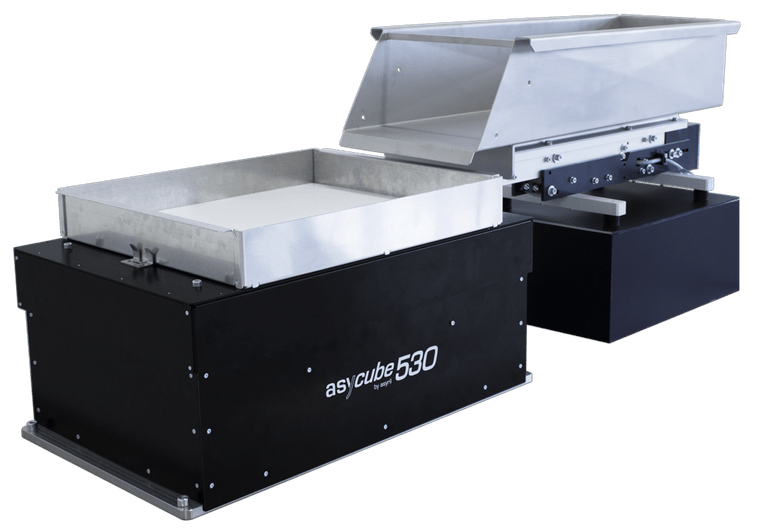 VIBRATORY FLEXIBLE FEEDER VS. TRADITIONAL BOWL FEEDER
Asyril's unique, 3-axis vibration flexible feeder technology can push parts in all three directions with variable amplitudes using Asyril's Feeder Control Center software. Programmable control means that Asycube feeder solutions can go from concept to deployment in hours or days — instead of weeks or months — for mechanical design iterations and testing of traditional feeder bowl solutions. More motion control also means Asycube models are compatible with 99 percent of part geometries — even the most challenging, such as miniature springs, gears, and other entwined or very small electronic parts as well as fragile surfaces and materials — and part changeover happens with the click of a mouse. Finally, the electric-only technology is cleaner, more robust, and more sustainable than compressed air–based feeder solutions, while being easier on part finishes than viberatory bowl feeders.
ASYCUBE ADVANTAGES
The Asycube 530 flexible feeder from Asyril provides the following advantages:
Compatible with all part geometries: 99% of parts can be fed on Asyril feeders, including complex geometries and delicate materials
Gentle part handling due to Asyril's innovative 3-axis vibration technology: parts can be moved in all directions, including the optimal choice of flipping amplitude for each part. Minimal abrasion as parts do not need to be recirculated. Platform purge possible
Advanced reliability and durability due to State-of-the-Art Voice Coil Technology ; no compressed air
Precise part detection thanks to integrated, adjustable backlight/optional SmartSight visual part detection system
Systematic part orientation can be achieved with intelligently structured platforms (grooves, holes, nests, various materials)
Minimum production changeover times enable flexible, future-proof production systems
Easy configuration with Asyril's Feeder Control Center Software
Various hopper sizes
For more information on our flexible feeder solutions, contact The Proud Company. To request a quote, contact Inside Sales at The Proud Company at 412.838.0230.