Low cost SCARA robots used to only exist on engineers' wishlists. Historically, pick and place applications typically involved either pneumatic or electromechanical actuators (aka Cartesian robots). The problem with using traditional actuators for pick and place applications is that everything needs to be perfectly aligned to work properly. Adjust the location of a pick or a place just slightly, and everything needs to be adjusted. In addition, due to the nature of the components, cycle times tend to be relatively slow.
To alleviate that gripe, Mitsubishi Electric has released a compact, lightweight, low cost SCARA robot ideal for pick and place applications. With a sub $10k price tag, you can now have the infinite flexibility and speed of a SCARA robot without the high cost.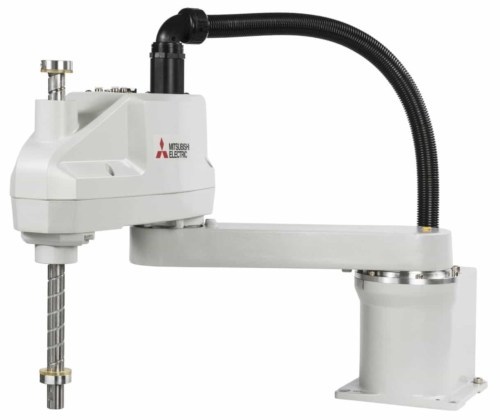 RH-CH LOW COST SCARA ROBOTS
The RH-CH line of compact industrial SCARA robots are lightweight, full-function robots ready to meet the needs of today's manufacturers at a price for even the most budget-conscious of customers. With a range of payloads, reaches, and protection ratings to choose from, these robots are well-suited for Pick & Place, Assembly, Material Handling, and Packaging applications. Equipped with the same powerful CR751-D controller found on other F-Series robots, and sporting a number of valuable options as standard equipment, the RH-CH line of robots provide users with excellent value and performance.
THE BENEFITS
Benefits of MEAU's new RH-CH low cost SCARA robots include:
Compact, space saving arm reduces floor space requirements
Lightweight robot arm (<18 kg) easy to handle and install
High-speed movement and positioning – Cycle time 0.44s/0.41s/0.43s (3CH40/6CH60/6CH70) Accommodates processing of more demanding applications
Standard equipment – I/O points: 32 inputs/32 outputs, capable of controlling up to eight axes, thru-arm wiring and piping, 2 channel encoder interface
High performance controller – Same high performance CR751 controller found on other F-Series model robots
Easy operation – Teaching can be easily executed via teach pendant or with the RT-ToolBox3 PC programming software
Lower cost – Reduces the barrier of entry for more budget minded users without sacrificing quality
For more information on low cost SCARA robots, contact The Proud Company's Sales Engineers at 412.838.0230.